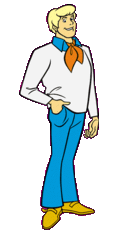 In all depictions, Fred wears a blue and/or white sweater (which is sometimes worn under a white shirt, sweater, or jacket) and blue jeans. In the original depictions, Fred wears an orange ascot. In the 1990s direct-to-video movies and in the 2000s series What's New, Scooby-Doo?, Fred's outfit was given an update, with the removal of his orange ascot and two blue stripes added to his sleeves. He is often shown constructing various Rube Goldberg traps for villains, which Scooby-Doo and/or Shaggy would often set off by mistake, causing the villain to be captured another way. Fred usually takes the lead in solving mysteries. When searching for clues, Fred and Daphne usually go together with Velma coming along, but sometimes Fred and Daphne would pair off, leaving Velma to go with Shaggy and Scooby
Ad blocker interference detected!
Wikia is a free-to-use site that makes money from advertising. We have a modified experience for viewers using ad blockers

Wikia is not accessible if you've made further modifications. Remove the custom ad blocker rule(s) and the page will load as expected.