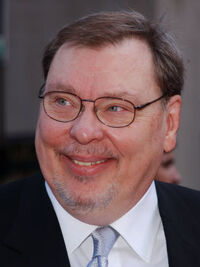 Lawrence "Larry" Drake (born February 21, 1950 – March 17, 2016) was the voice of Pops in Johnny Bravo, who voiced him for 34 episodes.
Drake was mostly best known in the television legal drama series L.A. Law as Benny Stulwicz. He appeared in films such as Darkman, Dr. Giggles and Bean.
Drake died on March 17, 2016 at the age of 66 of unknown causes.
Ad blocker interference detected!
Wikia is a free-to-use site that makes money from advertising. We have a modified experience for viewers using ad blockers

Wikia is not accessible if you've made further modifications. Remove the custom ad blocker rule(s) and the page will load as expected.