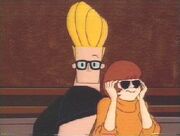 Eversince the crossover episode between Scooby-Doo and Johnny Bravo in the 90's, Cartoon Network has paired off Johnny and Velma Dinkely. Although oddly enough in the episode they met Johnny's affections were directed towards Daphine Blake, Velma's friend. Velma was the one vying for Johnny's attention only to get over him at the end of the episode. Never the less, CN have supported the pairing loyaly.
Ad blocker interference detected!
Wikia is a free-to-use site that makes money from advertising. We have a modified experience for viewers using ad blockers

Wikia is not accessible if you've made further modifications. Remove the custom ad blocker rule(s) and the page will load as expected.